IGNOU Assignment Front Page & Cover Page – Assignment Cover Page and Front Page Guide for IGNOU – Candidates who are enrolled in any academic programme offered by IGNOU must read every assignment point carefully before writing and completing their assignments. Candidates must adhere to all instructions in order for their assignments to be approved without a hitch and for you to receive credit for your diligence on the IGNOU Grade Card.
Every student wonders what they should put on the front page or cover page of their IGNOU assignment before turning it in to the relevant study center. Every subject's assignment must include a front page in order for the assessor to readily grasp and be aware of the specifics of the turned in assignment. Evaluators can expedite the evaluation process more easily thanks to the main page. Assignments for candidates must be turned in only to the coordinator of their study center, while in some circumstances they may also be turned in to the regional center.
IGNOU Assignment Front Page & Cover Page
Here is the answer to all of your questions regarding what to write on the first page of your IGNOU Assignment while composing your assignments or after they have been completed. We've created a list of all the information and requirements that must be included on the cover page of your assignment solution. Every single detail in the list below must be written down on the page.
Programme Full Name
Course Code
Course Title
Assignment Code
Study Center
Session Month & Year
Mobile Number
Email ID
Enrollment Number
Student Name
Residence Address
Signature
Date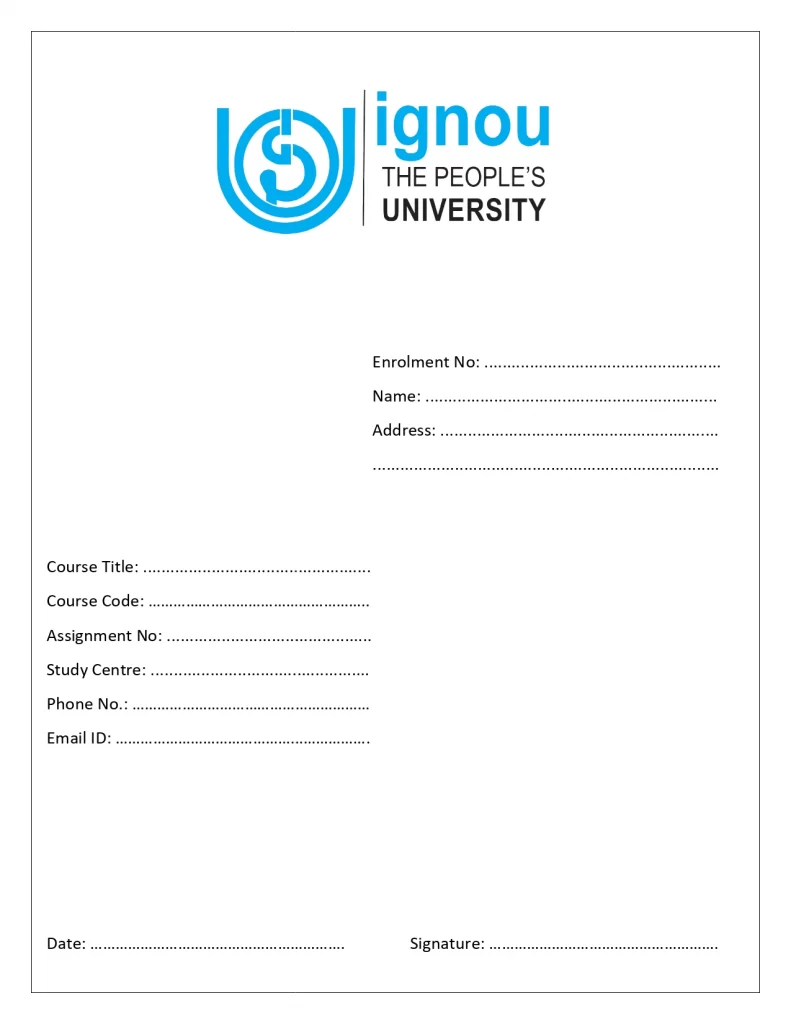 How to Prepare an IGNOU Assignment in Steps
Candidates are urged to carefully read each point in order to avoid errors when completing the IGNOU assignment. To make the directions simple to read and comprehend, we broke them down into points.
To complete your assignments, only use paper that is foolscap or A4 size. Use thick papers only.
After finishing your one response, leave at least one or a few lines vacant so that the assessor can provide a helpful comment.
We propose utilizing ruled paper rather than blank paper to do your assignment since IGNOU officials also encourage this.
For any TEE session, candidates may use a black or blue pen to complete their tasks.
Candidates are not permitted to use pens of any other colours, including red.
Additionally, having better handwriting helps with assignment marking.
Only handwritten assignments are approved by IGNOU since candidates are required to compose their assignments by hand.
Do not use a computer to print or type your assignments; this is not permitted.
They are not permitted to replicate their response from any of the university's units or blocks. If you copied an answer, you won't receive credit for that question.
Candidates must create their own assignment solutions; the centre will not accept any assignments that have been plagiarized from other students.
Each assignment for the course should be prepared separately. Don't do the entire assignment in one go.
To avoid needing to include a question paper while submitting the assignment, write each question before writing an answer.
Use a paper file and organise all of your assignments properly when you've finished composing your tasks. (Note:- A plastic file will never be accepted by the institution.)
The coordinator of the designated study centre must receive all of the candidate's completed assignments. You cannot submit anything to any other IGNOU location, including the regional centre, the registration division, or the assessment division.
It should be reminded that candidates must hand-deliver their assignments; you cannot send them via email, mail, or courier.
Don't forget to get a receipt once the assignment has been turned in.
The coordinator sends a confirmation to the study centre after receiving your assignments.
If you have requested a change in your study location, you must send your assignments to the new location until you hear from the university confirming the change. You can submit it to the new centre if you received notification from the university that your request to change centres was successful.
It's done
We believe that the information above will be useful for students who are unsure about what to write on the first page or what guidelines must be followed in order to successfully submit their assignments to IGNOU. We are confident that after reading this post, you found the answer here.
Tags: Assignment Front Page | IGNOU Admit Card | IGNOU Hall Ticket | IGNOU Exam Form | IGNOU Result | IGNOU Assignment Status | IGNOU Solved Assignment | IGNOU Solution | IGNOUSolution